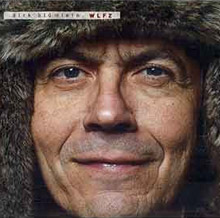 Rodenstein Records ROD 72

Dirk Blümlein
Was Leichtes für Zwischendurch

Dirk Blümlein: Bass, Guitar, Fender Rhodes, Drums (2/6/7)
Michael Kersting: Drums (1/4/5/8/9)
Antoine Fillion: Drums (3)
Volker Hinkel und Gabriel Holz: Answeringmachine (3)


Dirk Blümlein, bass player of one of Germanies most popular pop groups has already produced 4 albums for Rodenstein Records. This album was produced completely at his home and he played almost all the instruments himself. A wonderfully relaxed CD, echoing the floating guitar sounds of Daniel Lanois as well as a light reggae rhythm. Spiced up with a dose of funk and some rollin westcoast guitar and lots of room for the music to breathe. Relax and enjoy!