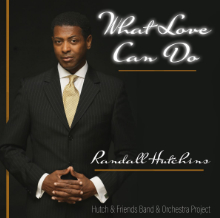 Rodenstein Records ROD 73
Randall Hutchins
What Love Can Do
vocals: Randall Hutchins, Cherie Maree, Ken Norris, Derrick Alexander
backing vocals: Donnielle Graves, April (Journi) Cook
rap: Cameron Kam Warner
drums: Maurice London, Jimmy Branley
bass: Alvin Mills, Dany (Labana) Martinez guitars: Roland Cabezas, Dany (Labana) Martinez, Billy Allen
percussion: Dany (Labana) Martinez
saxophone: Esther Klever, Olaf Schönborn, Joel Nunez
trumpet: Kirt Dallaway
all other: Randall Hutchins

On his new CD Keyboarder and singer Randall Hutchins merges soul, jazz, gospel and pop with lush orchestral arrangements, crossing many musical borders and giving the project a wide appeal.
His great live band is joined by unique musicians from Europe, Cuba and the U.S. a.o. singer Ken Norris, Derrick Alexander, and Cheri Maree, guitar player Billy Allen and Dany (LABANA) Martinez and saxophone player Joel Nunez from Los Angeles.
more about the music
more about the musicians
more about the music
What Love Can Do is the first full album by the creator and composer of the world renown musical HOPE: The Obama Musical Story. This new work is a personal journey through a range of emotions induced by experiencing the effects of the global pandemic. Randall adeptly captures these emotions and creates a beautiful and sincere musical representation with which nearly anyone on earth can identify. What Love Can Do is a soulful, jazzy and epic sounding project with his band and other talented musical friends with which happen to be some of the top in Europe &am; the US.
Detroit native, Hutchins' unique style blends genres woven together with lush orchestration crossing many musical borders and' giving the project a wide appeal. Compositions of the album are sure to be staples in radio programs of an array of stations, including; jazz, soul, gospel, alternative and pop. Even classical lovers can appreciate the rich orchestral arrangements. They will likely find place on playlists of all kinds and the hifi CD is surely collection worthy for those who appreciate detailed, hi quality production artistry.
Enjoy your first listen and find more subtle musical and lyrical gems each time you listen for years to come. To the musical press, radio DJ's, and program directors and to promoters and event DJ's: What Love Can Do was produced with you in mind. Randall and the production team took care in creating this special sonic experiences for the discerning ear, as well as the casual listener.