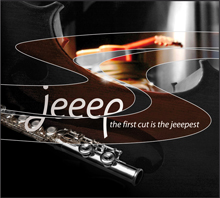 Rodenstein Records ROD 37
Jeeep
the first cut is the jeeepest
Stephanie Wagner (Flute)
Thomas Langer (acoustic and electric guitars)
Ralf Cetto (double bass and electric bass)

www.s-wagner.de
Flute players still seem to be a rare breed in jazz music – especially flute players that can really improvise. Stephanie Wagner, who studied at Berklee College, is one of them. She formed an interesting trio with "only" guitar and bass. A trio with three accomplished individuals that all contribute equally to the melodic, open and yet grooving sound of the group.
more about the music
more about the musicians
more about the music
All three musicians contributed original compositions for this very melodic album. Yet they also included a wonderful ballad by Leonard Bernstein, a latin classic by Oscar Hernandez and a tribute to Chick Corea by Mauro Grossi.
Breathtaking unison passages alternate with open sounds that leave space for each individual musician. Easy flowing latin rhythms follow odd rhythms and funky grooves – and all of this without any drums!
more about the musicians
Virtuoso bass player Ralf Cetto is also member of Azizah Mustafa-Zadeh's band and he performed with greats like Sheila Jordan, Ivan Lins, Adam Nussbaum, and Mitchel Forman.
www.ralfcetto.de
Guitarist Thomas Langer is not only member of Germany's most successful organ trio (with Barbara Dennerlein) but also played with Aki Takase, Jeff Andrews, and Bob Mintzer.
www.thomaslanger.com
Stephanie Wagner who received a scholarship from Berklee College got great reviews for her last quintet CD with the band "Quinsch" (Jazzhaus Musik). She also performed live with Germany's most successful pop band: "Söhne Mannheims" of singer Xavier Naidoo.
www.s-wagner.de