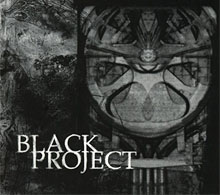 Rodenstein Records ROD 59

Black Project
Black Project

Johannes Stange (tp, valve trombone)
Jo Ambros (Guitars, Electric Bass, Pedal Steel Guitar, Banjo)
Jörg Teichert (Guitar, Banjo, Mandolin)
Konrad Hinsken (Fender Rhodes)
Matthias TC Debus (Double Bass, Electric Bass)
Christian Huber (Drums, Percussion)
Mysterious, confidental, private, restricted, deep and intimate story about six very experienced jazz musicians with mysterious plans and lived out formerly hidden ambitions. They often play top secret milestones live on stage. Also the name of the band you just bought this record from. Check out their outstanding sound on THIS CD and tell all your friends about it. That is probably an order.