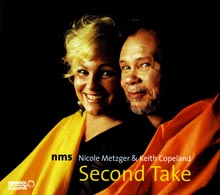 Rodenstein Records ROD 32
Nicole Metzger & Keith Copeland
Second Take
Nicole Metzger (voc)
Keith Copeland (dr)
Rudi Engel (b)
Jean-Yves Jung (p/org)
Wesley G. (g)

www.nicolemetzger.de
One of Germany's most impressive voices teams up with drum legend Keith Copeland for a set of standards full of emotion and swing
more about the music
more about the musicians
more about the music
Drum legend Keith Copeland who has performed with a countless number of stars, ranging from Cab Calloway to Stevie Wonder, Marvin Gaye, Stan Getz to George Benson or the Count Basie Orchestra took his "Second take" (RODENSTEIN RECORDS ROD 32) with the great swinging German singer Nicole Metzger, after suffering a severe stroke. Although being told that he would never be able to play again, he was so thrilled by a performance of Nicole that he decided to record his comeback album with her. An album full of emotion, spontaneity, warmth, and last but not least full of groove! For Nicole Metzger it's her long-awaited debut as a leader and she displays all of her great qualities: Her full, warm voice, her improvisational skills, her impeccable technique but most of all her capability to really interpret the songs in her own, very personal way that comes straight from the heart. The album displays her in different settings, fom duo with guitar to quintet with organ and even a duett with Keith Copeland on drums without any harmony instrument! She chose some of the best European musicians for her band:
more about the musicians
Jean Yves Jung (piano and organ) who already toured with Billy Cobham and Birelli Lagrene and Philip Catherine, great guitar player Wesley G who performed a.o. with Jimmy Woode an Liza Minelli, bass player Rudi Engel who played with Ernie Watts, Bob Mintzer, Benny Bailey, Charlie Mariano...