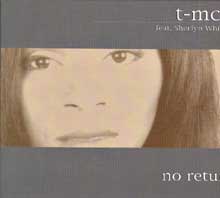 Rodenstein Records ROD 08
T-MC
No Return
Thomas Motter(kb), Sherlyn Whittiker (voc), Ralf Gustke (dr), Tommy Baldu (dr), Andreas Bayless (git), Dany Martinez (git), Jimi Wilkes (git), Jörg Dudys (git), Dalma Lima (perc), Alvin Mills (bs), Ian Fullwood (sax), Nathan Cross (sax), Kalle Knecht (dr progr.) background vocals: Harriet Lewis, Helena Paul, Sabrynaah Pope, Fatma Tazegüll recorded 2003/2004
more about the music
more about the musicians
more about the music
Well-known studio keyboarder Thomas Motter fulfills his dream with two CDs published on RODENSTEIN RECORDS ("no return"
ROD 08
and "night angel"
"night angel" ROD 09
): to produce an album without any artistic restrictions with his very own mixture of black music, spiced with a lot of Soul, Funk and Gospel, refined with a touch of Jazz. Sophisticated and extremely well produced this is a timeless record bringing out the best of contemporary black music, performed by outsanding musicians like Xavier Naidoo's drummer Ralf Gustke who was also drummer on Chaka Khan's world tour, bassist Alvin Lee (who played for Mary J. Blige and Hiram Bullock), Cuban guitarist Dany Martinez who has already performed with jazz-heavyweights like Gonzalo Rubalco or singer Harriet Lewis who was background singer for Michael Jackson! And on top of this is the great voice and power of Sheryl Whittiker who used to sing with Bobby Womack and the Harlem Gospel Singers!