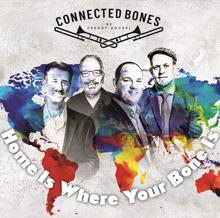 Rodenstein Records ROD 76
Connected Bones
Home Is Where Your Bone Is
Freddy Andrej: Bass Trombone, Tuba, Trombone, Composer, Producer
Felix Fromm: Trombone, Arrangement
John Fedchock: Trombone, Composer, Arrangement
Bill Reichenbach: Bass Trombone, Tuba, Trombone, Arrangement
www.freddyandrej.com
In der Corona Pandemie 2020/2021 führte Frederic "Freddy" Andrej seine Lieblings-Künstler, -Kollegen, -Arrangeure und eine Gruppe der besten Posaunisten der Welt zusammen für eine Non-Profit Remote-CD-Aufnahme. Die international angesehenen Arrangeure mit Weltrang arrangierten ganz exklusiv Freddys Lieblingsstücke, seine Komposition "Home Is Where Your Bone Is" sowie auch ihre eigenen Kompositionen für Freddys Band.
Ein Teil des Erlöses wird dem "Hearts of Music Fund" von Bill Reichenbach gespendet, der unversicherten amerikanischen Musikern hilft, die medizinische Hilfe benötigen. Ein weiterer Teil wird für die musikalische Jugendförderung in Europa gespendet.
mehr über das Album
mehr über die Musiker
mehr über das Album
In den Heimstudios der Musiker in Los Angeles, New York und in Rhodt unter Rietburg (Deutschland) wurden die einzelnen Stimmen aufgenommen und zum Editieren an Freddy geschickt. Die CD ist nach Freddys Komposition "Home Is Where Your Bone Is" benannt. Dies bedeutet, dass egal wie diese Pandemie unser Leben und unsere Zukunft beeinflusst, wir immer durch Musik verbunden sein werden. Es zeigt unsere Liebe und Hingabe zu unserem Instrument, der Posaune und zu Musik als wesentlichen Bestandteil unseres Lebens. "Connected Bones" (zu Deutsch: Verbundene Posaunen) war geboren.
mehr über die Musiker
Bill Reichenbach:
Zunächst Mitglied der Buddy Rich Band wurde er zu einem der meistbeschäftigten Studioposaunisten, der auf unglaublich vielen Hits in den verschiedensten Stilen zu hören ist:
u.a. bei Michael Jackson (Thriller), aber auch bei
• Songbird - Barbra Streisand (1978)
• Prisoner - Cher (1979)
• Bad Girls - Donna Summer (1979)
• Off the Wall - Michael Jackson (1979)
• This Time - Al Jarreau (1980)
• 9 to 5 and Odd Jobs - Dolly Parton (1980)
• What Cha' Gonna Do for Me - Chaka Khan (1981)
• Love All the Hurt Away - Aretha Franklin (1981)
• Secret Combination - Randy Crawford (1981)
• Thriller - Michael Jackson (1982)
• Swordfishtrombones - Tom Waits (1983)
• Patti Austin - Patti Austin (1984)
• A Private Heaven - Sheena Easton (1984)
• The Heart of the Matter - Kenny Rogers (1985)
• Hold Me - Laura Branigan (1985)
• Like a Rock - Bob Seger (1986)
• Swing Street - Barry Manilow (1987)
• Richard Marx - Richard Marx (1987)
• The Rumour - Olivia Newton-John (1988)
• One Love: One Dream - Jeffrey Osborne (1988)
• Heart's Horizon - Al Jarreau (1988)
• Naked to the World - Teena Marie (1988)
• The Best Years of Our Lives - Neil Diamond (1988)
• In the City of Angels - Jon Anderson (1988)
• Unforgettable... with Love - Natalie Cole (1991)
• World Falling Down - Peter Cetera (1992)
• Rendezvous - Christopher Cross (1992)
• Duets - Elton John (1993)
• Dreams Beyond Control - Spyro Gyra (1993)
• That Secret Place - Patti Austin (1994)
• This Is The Time: The Christmas Album - Michael Bolton (1996)
• Falling into You - Céline Dion (1996)
• Lisa Stansfield - Lisa Stansfield (1997)
• Across from Midnight - Joe Cocker (1997)
• Standing Together - George Benson (1998)
• The Evening of My Best Day - Rickie Lee Jones (2003)
• Rock Swings - Paul Anka (2005)
• B.B. King & Friends: 80 - B.B. King (2005)
• Harps and Angels - Randy Newman (2008)
• One of the Boys - Katy Perry (2008)
• To Be Loved - Michael Bublé (2013)
• Paradise Valley - John Mayer (2013)
• Storytone - Neil Young (2014)
• It's the Girls! - Bette Midler (2014)
• Standards - Seal (2017)
John Fedchock:
Spielte u.a. mit dem Woody Herman Orchestra, mit Gerry Mulligan, Louie Bellson, Bob Belden und Rosemary Clooney Und ist vor allem auch als Arrangeur sehr bekannt und geschätzt.
Felix Fromm:
Professor für Jazz-Posaune, spielte mit in vielen wichtigen Jazzensembles, Bsp WDR Bigband, HR Bigband, NDR Bigband, mit Musikern wir Chris Potter, Randy Brecker, Dave Liebman, Django Bates… Aber auch im Bereich der Popmusik ist Felix Fromm sehr präsent mit Auftritten u.a. mit Helene Fischer, Peter Maffay, Tim Bendzko, Gregor Meyle, Xavier Naidoo, CRO und Lena.
Freddy Andrej
:
Freddy Andrej studierte von 2014 bis 2018 Bachelor Jazz-Posaune an der Musikhochschule Mannheim bei Felix Fromm. Von 2018 bis 2019 studierte er Master Jazz-Bassposaune am renommierten Conservatorium van Amsterdam bei Martin van den Berg und der Bassposaunen-Legende Erik van Lier.
Seit 2020 arbeitet er an seinem international besetzten Debütalbum, welches er im Herbst 2021 veröffentlicht.
2019 ist er der Einladung seines Idols Bill Reichenbach nach Los Angeles (USA) gefolgt, um dort gemeinsam zu konzertieren. Das war für ihn ein persönliches Highlight.
2015 gründete er die heute deutschlandweit gefragte Brassband Brass2Go und managt sie seither.
In seiner bisherigen Karriere konnte Freddy bereits mit vielen namhaften Bands und Ensembles zusammenarbeiten:
Rainier Baas, Peter Beets & Henk Meutgeert New Jazz Orchestra, Martin van den Berg, Sheamus Blake, Bert Boeren, DeeDee Bridgewater, Fay Claasen, Gerald Clayton, John Clayton, Jazzorchestra of the Concertgebouw, Justin DiCioccio, John Fedchock, Felix Fromm, Thomas Gansch, Ben van Gelder, Jörg-Achim Keller, Kicks'n Sticks Big Band Mannheim, Konrad Kosseleck Big Band, Landesjugendjazzorchester Hessen, Bart van Lier, Erik van Lier, Dennis Mackrel, Andy Martin, Bob Mintzer, Michael Mossman, Jesse Passenier, The Real Group, Dianne Reeves, Bill Reichenbach, Ilja Reingoud, John Ruocco, Wiener Sängerknaben uvm...