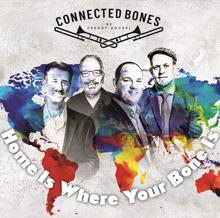 Rodenstein Records ROD 76
Connected Bones
Home Is Where Your Bone Is
Freddy Andrej: Bass Trombone, Tuba, Trombone, Composer, Producer
Felix Fromm: Trombone, Arrangement
John Fedchock: Trombone, Composer, Arrangement
Bill Reichenbach: Bass Trombone, Tuba, Trombone, Arrangement
www.freddyandrej.com
During the corona pandemic in 2020/2021 Frederic "Freddy" Andrej reached out to his favourite artists, colleagues and writers/arrangers to start an inter- national collaboration. Freddy brought together some of the best trombone players over the world for a non-profit remote cd recording of his favourite tunes as well as originals by members of the project.
A part of the proceeds will be donated to the "Hearts of Music Fund" by Bill Reichenbach, which helps uninsured American musicians who need medical aid and to youth music education in Europe.
more about the music
more about the musicians
more about the music
The parts were recorded all over the world in the home studios of the musicians in New York, Los Angeles and in Rhodt unter Rietburg (Germany) and then sent to Freddy for the editing. The cd is named after Freddys composition "Home Is Where Your Bone Is" what means, that however this pandemic is affecting our lives and our future, we will always be connected through music, no matter where we are.It shows our love and dedication to our instrument the trombone and music in general. "Connected Bones" was born.
more about the musicians
Bill Reichenbach:
Played a.o. with the Buddy Rich Band but then became one of the most recorded studio trombonists with countless hit recordings, e.g.
• Songbird - Barbra Streisand (1978)
• Prisoner - Cher (1979)
• Bad Girls - Donna Summer (1979)
• Off the Wall - Michael Jackson (1979)
• This Time - Al Jarreau (1980)
• 9 to 5 and Odd Jobs - Dolly Parton (1980)
• What Cha' Gonna Do for Me - Chaka Khan (1981)
• Love All the Hurt Away - Aretha Franklin (1981)
• Secret Combination - Randy Crawford (1981)
• Thriller - Michael Jackson (1982)
• Swordfishtrombones - Tom Waits (1983)
• Patti Austin - Patti Austin (1984)
• A Private Heaven - Sheena Easton (1984)
• The Heart of the Matter - Kenny Rogers (1985)
• Hold Me - Laura Branigan (1985)
• Like a Rock - Bob Seger (1986)
• Swing Street - Barry Manilow (1987)
• Richard Marx - Richard Marx (1987)
• The Rumour - Olivia Newton-John (1988)
• One Love: One Dream - Jeffrey Osborne (1988)
• Heart's Horizon - Al Jarreau (1988)
• Naked to the World - Teena Marie (1988)
• The Best Years of Our Lives - Neil Diamond (1988)
• In the City of Angels - Jon Anderson (1988)
• Unforgettable... with Love - Natalie Cole (1991)
• World Falling Down - Peter Cetera (1992)
• Rendezvous - Christopher Cross (1992)
• Duets - Elton John (1993)
• Dreams Beyond Control - Spyro Gyra (1993)
• That Secret Place - Patti Austin (1994)
• This Is The Time: The Christmas Album - Michael Bolton (1996)
• Falling into You - Céline Dion (1996)
• Lisa Stansfield - Lisa Stansfield (1997)
• Across from Midnight - Joe Cocker (1997)
• Standing Together - George Benson (1998)
• The Evening of My Best Day - Rickie Lee Jones (2003)
• Rock Swings - Paul Anka (2005)
• B.B. King & Friends: 80 - B.B. King (2005)
• Harps and Angels - Randy Newman (2008)
• One of the Boys - Katy Perry (2008)
• To Be Loved - Michael Bublé (2013)
• Paradise Valley - John Mayer (2013)
• Storytone - Neil Young (2014)
• It's the Girls! - Bette Midler (2014)
• Standards - Seal (2017)
John Fedchock:
Played a.o. with the Woody Herman Orchestra, with Gerry Mulligan, Louie Bellson, Bob Belden, Rosemary Clooney…
And he also became famous as e great arranger.
Felix Fromm:
After studying in Mannheim and New York, Felix became one of Germany's leading trombone players, who not just performed with a lot of jazz orchestras (WDR Bigband, NDR Bigband…) and jazz stars like Chris Potter, Randy Brecker, Dave Liebman, Django Bates… but also playing big stadium tours with Germany's main pop acts like Helene Fischer, Peter Maffay, Xavier Naidoo…
He is professor for jazz trombone at the University of Würzburg
Freddy Andrej
Freddy studied jazz trombone in Mannheim and made his master in Amsterdam studying with Martin van Berg and with bass trombone legend Erik van Lier.
2019 he was invited to play a concert in L.A. by Bill Reichenbach.
2015 he started the successful Brassband Brass2Go
He got to play with many great musicians and orchestras, a.o.
Sheamus Blake, DeeDee Bridgewater, Gerald Clayton, John Clayton, Jazzorchestra of the Concertgebouw, Thomas Gansch, Bart van Lier, Erik van Lier, Bob Mintzer, Michael Mossman, The Real Group, Dianne Reeves, John Ruocco, Wiener Sängerknaben ...