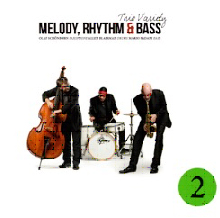 60 (!) years after his first record (which was produced for CBS by the legendary John Hammond) we're happy to publish Allen Blairman's new CD with his "Trio Variety". Blairman who performed a.o. with Chet Baker, Dexter Gordon, Roland Kirk, Albert Ayler, Karl Berger, or Albert Mangelsdorff is still one of the most swinging and creative drummers in a wide variety of styles. Together with his long-time bandmates Olaf Schönborn (sax) and Mario Fadani (bass) he interpretes classic songs from Broadway to pop with an irresistible groove and melodic solos.
more about the music
more about the musicians
more about the music
For more than 15 years "Trio Variety" has been touring all over Europe - but somehow they never got together in a recording studio. There are, however, many recordings done live in their practice room, a former chicken shack out in the fields (remember Jimmy Smith?) and in Allen Blairman's living room. Some of these will be published here in a series of CDs giving you an intimate live experience of the trio's energy , their groove and the spontaneity in their improvisation . As the band name suggests, Trio Variety is crossing all the stylistical boundaries: from swing to funk and soul, from beautiful standards to unknown treasures and pop songs, from straight ahead to open and free. Come along on their musical journey - all you need is an open mind! Enjoy!
more about the musicians
Allen Blairman
He started his career as professional musicians more than 50 years ago (in 1955!) in Pittsburgh, has played with almost all of the jazz greats from Jimmy Smith to George Benson, from Roland Kirk to Dexter Gordon, from Chet Baker to Karl Berger, from Mal Waldron to Albert Ayler whose famous last recordings with him at the "Fondation Maeght" were just re-released.
Mario Fadani
On bass is Mario Fadani, one of the most requested bass players from the Rhein-Main area, playing in various styles from jazz, klezmer, psychedelic rock but also cabaret and musicals
Olaf Schönborn
He also has a trio with Allen Blairman and tap dancer Kurt Albert called Melody, Rhythm and Tap has played with Blairman on countless projects within the last fifteen years and recorded a great groovin' organ trio CD with him: BLAIRMAN / SCHÖNBORN / SIMPSON (Rodenstein Records ROD 24). He is one of the founders of RODENSTEIN RECORDS . Schönborn has released several highly acclaimed CDs with his original music, e.g. with his acoustic quartet "OLAF SCHÖNBORN'S Q4: Radio Jazz " (Jazz'n'Arts JnA 3808), his modern jazz quintet CHANGES (JnA 0100), his fusion band FRIDGE PEOPLE (ROD 29), with Brasilian music (COCADA, ROD 40) , a worldmusic ensemble featuring Chinese Erhu -virtuoso Xiaomei Deng (ROD K02) but also with bigbands, soul-and rap groups up to experimental jazz: HOFMANN / SCHÖNBORN / Wangenheim: INSIDE – which was recorded INSIDE a nuclear reactor! (ROD 27).
He also has a trio with Allen Blairman and tap dancer Kurt Albert called Melody, Rhythm and Tap