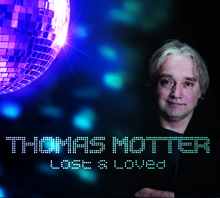 Rodenstein Records ROD 44

Thomas Motter
Lost & Loved

Thomas Motter (kb)
feat:
Nathan East (bs), Ralf Gustke (dr), Nene Vasquez (perc), Larry Kimpel (bs), Glen Turner (git)
vocals: LeNora Jaye, Melissa Bell, Karl Frierson, Helena Paul, Eric Conley
Finest R&B, soulful vocalists and a lot of groove are the ingredients of Thomas Motter's new album.
After his great CDs "t-mc" (ROD 08, ROD 09) and his group "Moon Base" (ROD 36) he combined once again great songwriting with faboulous singers and the top studio musicians - impressive!
more about the music
more about the musicians
reviews
reviews
soulandjazzandfunk review
THOMAS MOTTER is one of Germany's top jazz keyboardists. In-demand as a session player and constantly on the road, he's also released a number of solo albums – culminating in last year's 'High' which he credited to a band that he dubbed 'Moonbase' – a good name since some of the music (especially the interludes) was spacey and ethereal yet Thomas did also include plenty of modern soul too featuring singers like Helen Taylor and Karl Frierson.
Motter's just released a brand new LP. Under his own name this time, 'Lost & Loved' is another great mix of jazzy instrumentals and modern soul grooves, and it's one of those grooves that starts proceedings. 'Star' features the great soul voice of indie star LeNora Jaye and the cut has a cool drive that's hard to ignore. LeNora's out front too on the slinky 'If You Like It'. Her delivery working well with Larry Kimpel's sensual bass lines. Other featured singers include ex Soul II Souler, Melissa Bell; Michelle Bradshaw; Karl Frierson; Helena Paul; and Helen Taylor and Eric Conley. That pair duet on one of the album's highlights – the ultra sensual 'I Keep Imagining'. The cut starts as an intimate dialogue before the tune itself kicks in – an interesting concept... sort of Barry White for the 21st century! Of the instrumentals 'Butterflies' is a smooth jazz classic', the pacey 'No Dance' sits on the cusp of soulful house, the solo 'Madagascar' almost hits the drum n bass trail, while on 'High Times' Thomas reprises the ethereal motifs of 'Moonbase'.
'Lost And Loved' is never less than interesting and recommended for anyone who likes their modern soul just a little different.