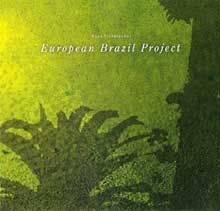 Rodenstein Records ROD 31
Hans Fickelscher
European Brazil Project
Silke Straub (Nürnberg/D) (vocals) Olivier Ker Ourio (Paris/Frankreich) (harmonica) Peter Fulda (Nürnberg/D) (piano) Franco Petrocca (Italien/D) (bass/guitar) Bodek Janke (Polen/Russland/D) (percussion) Hans Fickelscher (Stuttgart/D) (drums & percussion) Kontakt:www.hans-fickelscher.de
Six of Europe's finest musicians and bandleaders combined in a unique band, united by their love for Brazilian music.
more about the music
more about the musicians
more about the music
After two years in New York, drummer Hans Fickelscher chose a dreamteam of musicians from Poland, Italy, France, Russia and Germany e.g. . Bassist Franco Petrocca (played with a.o. Paquito D'Rivera), Pianist Peter Fulda (Jerry Bergonzi, Charlie Mariano), the great harmonica player Olivier Ker Ourio (Michel Petrucciani, Aldo Romano, Ralph Towner), New York-based percussionist Bodo Janke and one of the biggest German vocal talents Silke Straub. Amazing and charming is the outstanding harmonica player from Paris, Olivier Ker Ourio. In addition to his regular gigs in the most reputable jazz clubs of Paris, Olivier Ker Ourio has participated, as both leader and guest, in numerous jazz festivals all around the world with artists such asMichel Petrucciani, Aldo Romano and Ralph Towner. The New York Press wrote "the only worthy successor to Toots Thielemans". The soulful harmonica sound blends beautifully with Silke Straub's voice; her warm and sympathetic aura, her perfect vocal technique and her animated interpretations of lyrics are a lot of fun to listen to. Critics regard her as one of the most powerful young jazz singers in Germany. Peter Fulda, known as one of the most innovative piano players and composers in Germany, worked with musician-greats such as Jerry Bergonzi and Charlie Mariano and has also recorded two great trio CDs for JAZZ'n'ARTS Records (
JAZZ'n'ARTS RECORDS 0902
JAZZ'n'ARTS RECORDS 2003
). Six-string bass player and guitar player, Franco Petrocca from Italy, plays in a lot of brazil and latin bands (Rosanna & Zélia, Kamafra or Paquito D'Rivera). He is well known for his virtuoso and tasteful solo playing. An acoustic fun-maker isaward-winning percussionist Bodek Janke. Polish-born with a Russian mother, he is the youngest musician in the band but his creative output seems to be endless and fascinating.. He currently lives and performs in New York City and also plays all around the globe. The leader, Hans Fickelscher, who lived for two years in NYC, is known as a highly educated and very musical, emotional drummer. After producing the percussion quartet "Pictures of Rhythm", which featured the great and soulful guest singer Maria João (Portugal) and the british avantgarde-guitarist Fred Frith, –and after working with his "marching" band "Crazy People Music" (with trumpet, sax, tuba and percussion) –and following his tribute to the drummer-great "art of blakey" he now is working with this new band: "I like to combine original European jazz music and musicians with the tradition and the rhythms of Brazilian music." Hans lives in the Southern part of Germany.