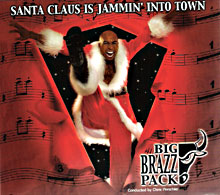 Rodenstein Records ROD 18
Big Brazz Pack
Santa Claus Is Jammin´Into Town
Chris Perschke Ralf Nöske, Heiko Hubmann, Ralf Zenker, Nils Wallstädt (trumpets) Johannes Goltz, Patrick Heide, Till Krause, Tobias Reithmann (trombones) Karen Perschke, Martin S. Schmitt, Christian Schatka, Christian Bolz, Michael Schlöder (saxophones) Ernst Seitz (piano) Werner G. Seifert (hammond B3) Florian Werther (bass) Stefan Kowollik (guitar) Florian Hermann (drums) recorded 2004 www.bigbrazzpack.de
This Bigband makes Christmas time even more fun!
more about the music
more about the musicians
more about the music
Big Brazz Pack! This great new big band which appeared on the German jazz scene in spring 2004 was founded by trombone player and arranger Chris Perschke. The band members are all professional musicians out of Frankfurt's Rhein-Main area. But why is the first sign of this big band a Christmas album? The reason is very simple! The two arrangers of the band wanted to start with a standard album. And which are the first and oldest standards? The Christmas Songs. The arrangers Chris Perschke and Martin Schmitt digged down deep and brought them into a new world: the world of swing, blues, salsa and boogaloo. But this first CD from Big Brazz Pack is not only a collection of Christmas Carols, it's also a great showcase of American big band music – and should be listened to not only in the Christmas Season.